Meet Your Mentor and Coach…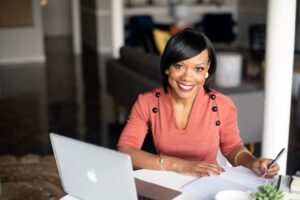 Author In You™ is the brainchild of bestselling and award-winning author Stacy Hawkins Adams, whose career as a professional writer has spanned 20 years in daily journalism and has included the publication of nine novels, one nonfiction book, and two anthologies by major publishing houses, including divisions of HarperCollins and Harlequin.
Her novels include Coming Home (a 2012 Target stores Recommended Read), The Someday List (an Essence magazine bestseller) and the acclaimed Watercolored Pearls, which continues to engage readers in a reprint edition. Her novel Dreams That Won't Let Go was a finalist along with John Grisham and Jan Karon for a 2010 Library of Virginia literary award. Her novel Lead Me Home received a starred review in Publishers Weekly, and her latest book, Finding Home, took her into the trenches of the self-publishing trend – giving her valuable insight to share with her clients, students and mentees. Stacy also has penned a nonfiction book, Who Speaks To Your Heart? Tuning in to God's Whispers. It is part memoir, part devotional for busy women of faith.
Stacy has consistently served for more than a decade as a writing coach and mentor, editing consultant, conference speaker and workshop leader. She routinely teaches on the topics of Writing from A to Z: Going from Idea Stage to Finished Manuscript and Published Author+Marketing Guru – How to Wear Both Hats.  Stacy also has served as an adjunct professor at the University of Richmond, where she taught Write Your Story, a nonfiction book proposal writing course, with literary colleague Maya Payne Smart. Thus far, her coaching clients who have stayed the course have self-published women's fiction novels and children's books, and several are completing their memoirs. One client is in talks with a New York-based agent who was wowed by her nonfiction book proposal.
Learn more about Stacy at StacyHawkinsAdams.com and on the blog she curates, LifeUntapped.com.
I launched Author In You™ to provide a more personal form of assistance to aspiring fiction and nonfiction authors seeking specific advice and tools to help them birth their books. The demands of my own writing and book promotion schedule have limited my ability to provide significant one-on-one coaching; however, I am passionate about helping other serious writers thrive.

Through the group coaching format of Author In You™ I will provide you and your fellow authors with expert advice on some aspect of manuscript development or preparing for publication, and I'll guide you to reputable resources that will motivate the "Author in You." My professional knowledge, "tough love" encouragement, and tangible help as you write chapter after chapter, will help you achieve your goal, whether you're writing fiction or nonfiction.